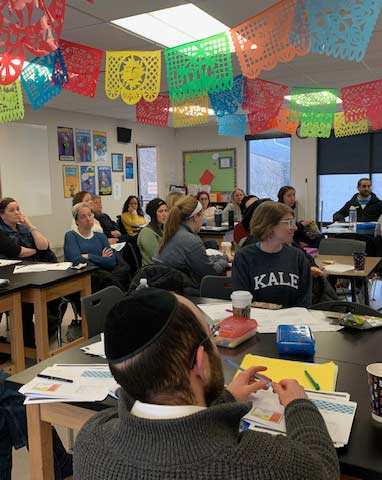 PTO Holiday Gift Fund
 Dear CTA Family,
As Chanukah approaches, we have a wonderful opportunity to honor our fiercely dedicated educators, administrators, and staff.
Your contribution of $4.00 per person will be greatly appreciated. PTO purchases beautifully appointed Chanukah cards. Your name will be listed inside acknowledging your contribution. All staff and faculty will receive the same gift amount according to their full-time or part-time status.
Here, you will find a list of educators, administrators, and support staff. Please check off who you intend to honor. You can do this electronically or print a paper copy. We will have extra paper copies available at the front desk.
Your contributions can be made one of two ways, by check or by credit card/PayPal. Your checks should be payable to CTA PTO Holiday Gift Fund. If you use Pay Pal, you can send using this link or send it to PTO@torahacademy.org, enter your amount and please note that it is for the Holiday Gift Fund. If you use Pay Pal, please make sure to submit the sheet with the list of names that you are acknowledging. The list can either be handed to the front desk OR scan/photograph it and email it to pto@torahacademy.org.
PTO will do the rest! We are excited to have Silvia Wolfson, a dedicated CTA parent, organizing this project. You can direct your questions to her at maior at home 338-0781.
All Holiday Gift forms and checks must be returned to the school office by December 13, 2019. Our honorees will receive their gifts during Chanukah, the week of December 16.
Thank you for your continued dedication and support of Columbus Torah Academy.
Chag Chanukah Sameach!
Beth Binsky
CTA PTO President