Rabbi Avrohom Drandoff
Head of School
With CTA Since 2012
Master of Arts in School Counseling from Johns Hopkins University; Master Degree in Talmudic law and semicha (rabbinical ordination) from Ner Israel Rabbinical College; Successfully completed: YU Lead: Yeshiva University's school leadership training program; YU Teach: Legacy Heritage Foundation fellowship; worked as Director of Community Programs for the Columbus Community Kollel.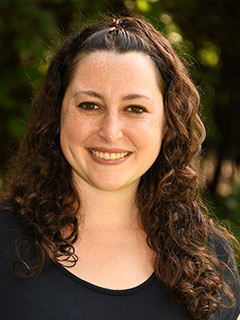 Mrs. Debbie Grashin
Upper School Principal
With CTA Since 2022
Debbie Grashin holds a Masters in School Leadership from Columbia University Teachers College, a Masters in Adolescent Education from Pace University, and Bachelors in Mathematics and Computer Science from Yeshiva University Stern College for Women. She began her teaching career through New York City Teaching Fellows and taught high school Math and Computer Science in a NYC public school for eight years, also serving as grade level chair and department head, and completing a fellowship as a Math for America Master Teacher. She returned to her hometown of Columbus to help found KIPP Columbus High, where she worked for six years as the founding math and computer science teacher and department chair. She was awarded the Amazon Future Engineer Teacher of the Year Award in 2020.  Mrs. Grashin is a CTA High School alumnus.
Dr. Miranda Kogon
Lower School Principal
With CTA Since 2022
Dr. Kogon has an undergraduate degree in Elementary Education from the State University of New York at Potsdam, Masters in Special Education & Applied Behavior Analysis from Arizona State University, Doctorate in Behavioral Health from Arizona State University, post-doctorate and residency in Medical Family Therapy (department of psychiatry) from The University of Rochester School of Medicine, post-masters degree in School Administration and Supervision from Johns Hopkins University, post-masters certificate in Instructional Leadership from the Relay Graduate School of Education through the intensive fellowship in the National Principals Supervisor Academy and has completed the AASA-USC Rossier Urban Superintendents Academy Certification Program. She has worked with UNICEF in York, England as an International Education Researcher, taught on a Native American Mohawk Reservation on the border of New York and Canada, taught and supported a special education curriculum and design team with the Seoul Metropolitan Office of Education and was a behavior therapist at the Seoul Children's Hospital and The Mind Care Institute in Seoul, South Korea, served as a school counselor in Rochester, New York, worked as a behavior specialist in Fairfax, Virginia, served as a Manager then Director of Special Education with DC Public Schools in Washington D.C., and most recently, she was the Associate Chief of Student Equity and Opportunity for Denver Public Schools in Denver, Colorado. She is passionate about working directly with students, teachers, and families to create strong systems of support and is happy to be the lower school principal of CTA where she can do just this!
We are proud of our faculty and staff who are passionate about our School and our mission. Every day, they strive to ensure the highest standards of excellence in all areas.  Following is an alphabetical listing of faculty and staff.  Updated 8/21/2022